Monday-Friday: 9a.m.-6p.m.

Saturday: 9a.m.-12p.m. · Sunday: Closed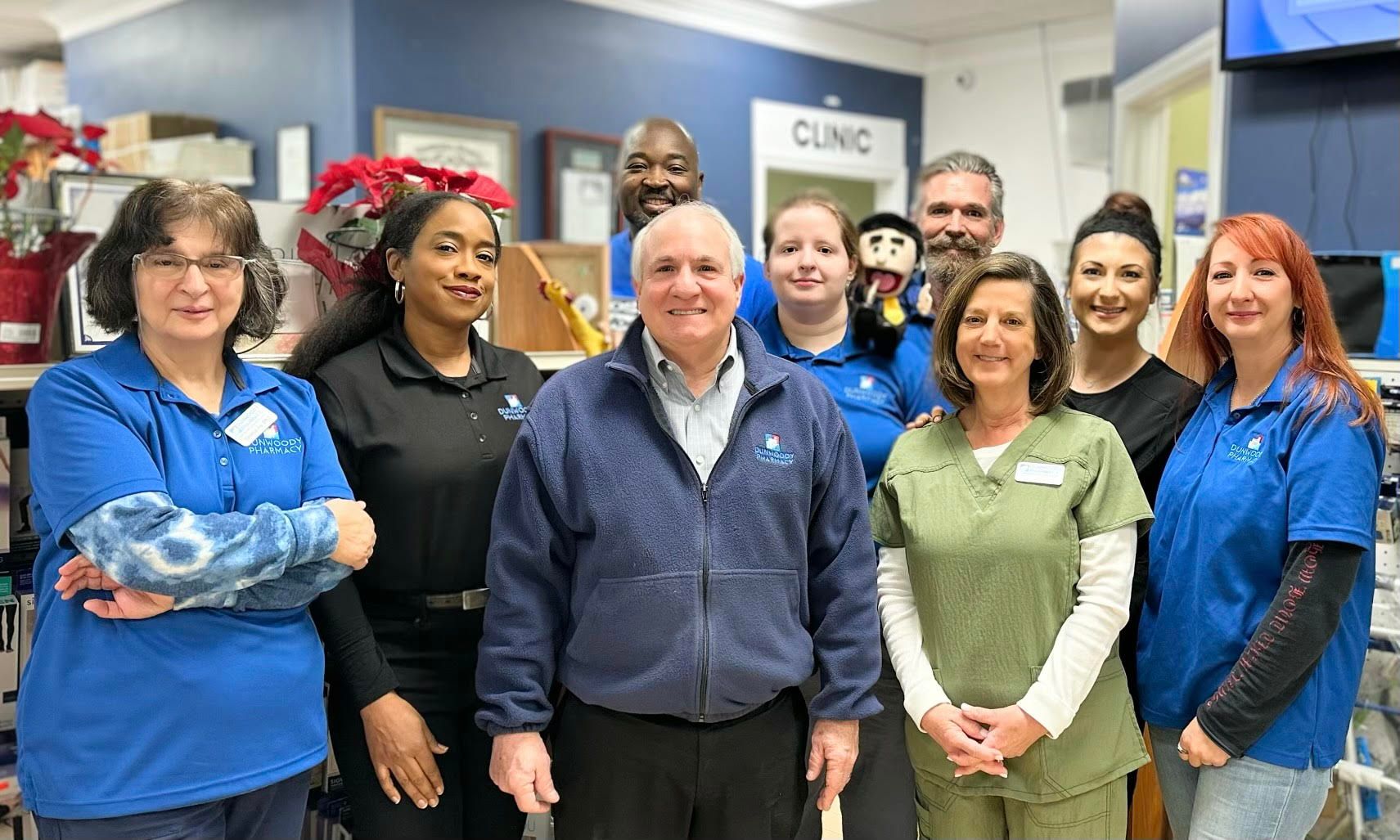 DUNWOODY PHARMACY VALUES
Quality - At Dunwoody we mix: top quality ingredients using state-of-the-art technology, our expansive pharmacy knowledge and ongoing education, a commitment to the unsurpassed PCAB accredited compliance process, and our passionate, "let's find a solution" service to make sure each patient and practitioner gets the precision sterile, non-sterile and traditional pharmaceuticals they need for their optimal wellness.
Family – Beyond being an independent, full-service compounding, sterile compounding and traditional pharmacy serving metro Atlanta's community, the team of Dunwoody Pharmacy, Compounding and Wellness works as a family team and truly believe every patient and practitioner is special and is part that family.
Diversity – Equity, diversity, and inclusion are an active process that requires continuous commitment to promote healthy people, healthy communities and the overall success of present and future generations. At Dunwoody, we commit to this everyday by fostering a culture of open-mindedness, compassion, and inclusiveness; actively building a community whose members have diverse cultures, backgrounds, and life experiences; and providing effective leadership in the development, coordination, implementation and assessment of a comprehensive array of programs and services to promote not just diversity, but equity in all we do.
What Our Patients Love About Our Pharmacy
This pharmacy has the best customer service I have ever received. The pharmacist is extremely knowledgeable and professional. He was able to answer all my questions and have my medication prepared in impeccable timing. Thanks Dunwoody Pharmacy!
Christy goes above and beyond. My Thor (dog) needed a CHANGE in meds and she cared and made sure he got his meds ASAP. Even though I personally have not had to have scripts filled. Christy will be the one I TRUST to make sure I get what I need. SHE IS PRICELESS!
Personal service, which is so often not available at the big chains, is here in abundance. You can reach someone on the phone quickly, promised return phone calls are always made, and you can get curbside pickup for your prescription or other purchases. They have rearranged the interior to accommodate all of dangers associated with the coronavirus. We have also gotten our flu and shingles vaccines here. They have a seamless operation for vaccines with full follow-up for any second doses.
This pharmacy is the best in everything that they do! We are so thankful that we found you. You are treated with respect, honesty and smiling faces. If they are out of stock they are kind enough to order it for you. They remind me so much how every business you went into the employees are so kind to you. If you haven't tried them before the you definitely should. We hope that all you have a wonderful and blessed day!
Great and friendly staff!! Always willing to help with whatever the patients need! I highly recommend them.
❮
❯
Subscribe to our newsletter
Stay up to date with our pharmacy with exclusive content.

We Would Love To Hear From You
At Dunwoody Pharmacy, we're committed to helping you live a healthier life. Our pharmacy staff would be happy to help you with any questions you may have.